Celonic, a biopharma development and manufacturing company
Also known as CDMO, Celonic offers its customers the possibility to partially or fully transfer the development and production of a product or a product. medical device.
Defining the client's needs
One of our key growth objectives is to reach a greater volume of visitors on our website. We need to renovate our design, to review the structure and the content of our current website, and to increase our traffic to generate more leads for our sales people.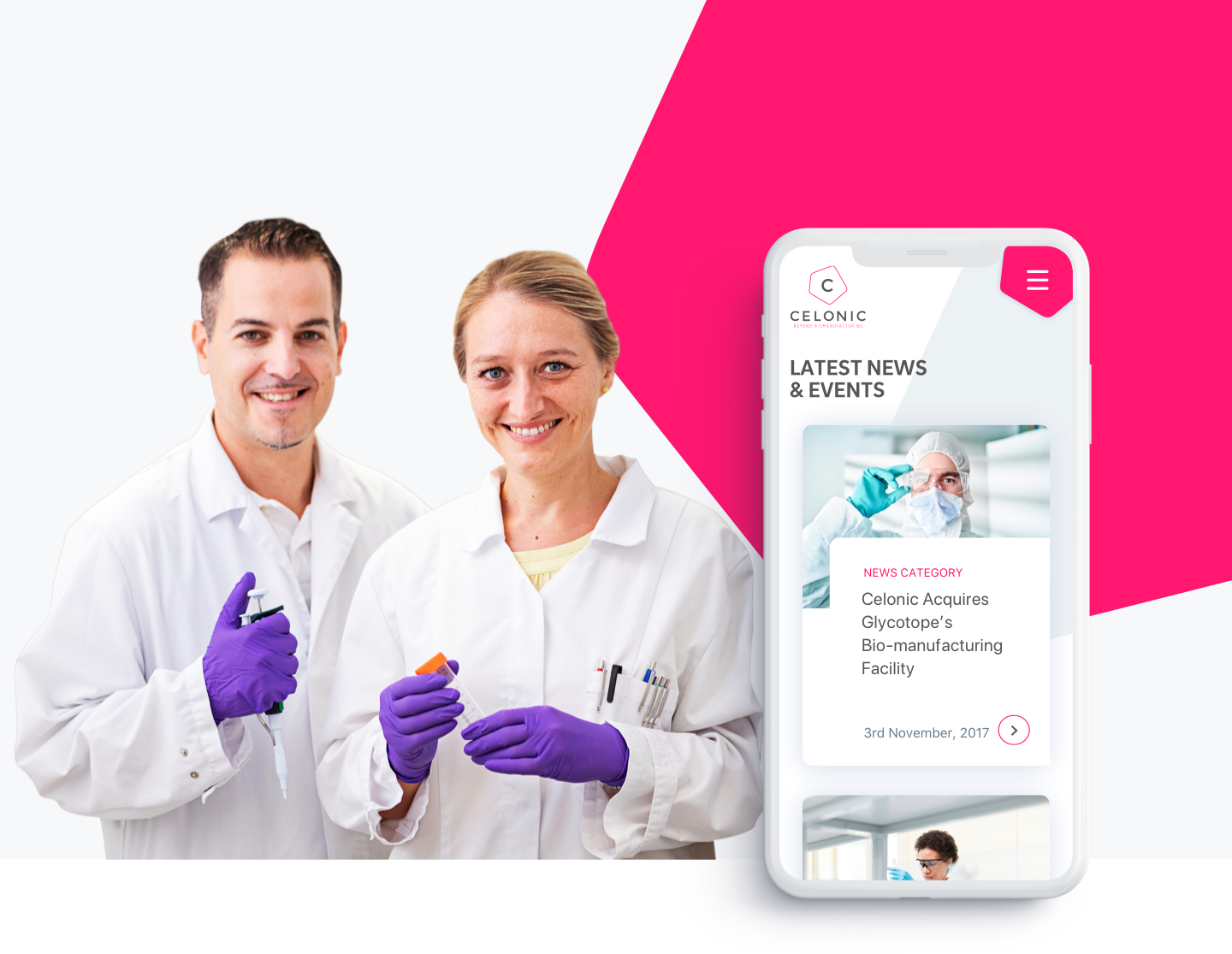 Achieving the objectives of Celonic
We have identified a real desire for Celonic to be able to shape their new website into a sales tool rather than just a presentation site.
A traditional approach would not have sufficed to achieve this objective and that is why we advised our client to adopt the innovative methods of Growth Driven Design. Those thrive in placing the ideal target customers, i.e. the ones we want to attract to the website, at the heart of the approach.
From then on, all of the subsequent workflow derives from the development of this ideal Persona: the design, the navigation strategy and the content of the website.
The finalized web portal then responds effortlessly to targeted visitors' expectations, whom we consequently attract with a tailored Inbound Marketing's content strategy.
To allow for a broader vision of the company's overall digital strategy, we developed together a strategic Game Plan.
Our implemented solutions
Definition of a Persona
A Persona is the key element of the inbound marketing strategy. This is a fictional character imagined and molded according to the real needs, objectives and objections of the ideal client of Celonic.

Complete digital strategy
The digital dynamics have been promoted within all levels of Celonic's sales strategies, thereby formulating new goals and adopting new positionings. The combination of a content strategy, adapted advertising, and the optimization of their website, has helped define a fresh digital strategy to implement.

Website redesign
A website revamp aims to welcome visitors into an original environment with perfect aesthetics and immersed in ergonomics that focus primarily on giving an optimal user experience. This redesign puts the ideal customer at the heart of our approach, allowing for the proper pull and ensuing conversion.

Customized design
This allows us to embody the website's design by ideally adapting it to the corresponding strategy and to the objectives already defined upstream. This is how Celonic attracts, satisfies and retains its users.

Responsive Design
The UI (User Interface) based design approach aims to conceive web portals in a way as to offer the best reading and browsing experience for users, regardless of their device.

Inbound Marketing Strategy
This innovative methodology is best suited to attract qualified visitors to your site and turn these perfect strangers into customers and promoters of your company. It is the final endorsement for the implementation of the global digital strategy.
It's a real pleasure to work hand in hand with Celonic's marketing team. A real complementarity has been established since we started working together, and we continue to support this beautiful Biotech company in achieving its objectives.