HGuitare, online guitar lessons
HGuitare offers you to learn the guitar at your own pace and to progress quickly whatever your level. This platform allows you to benefit from live lessons each week as well as video lessons with teachers available 7 days a week.
Passionate about the ingenious idea of giving guitar lessons online, DevFactory has teamed up with the HGuitare team to modernize their platform.
The needs of the client
The goal is to advance our students in the best possible environment and all in a good mood, modernize our site became necessary!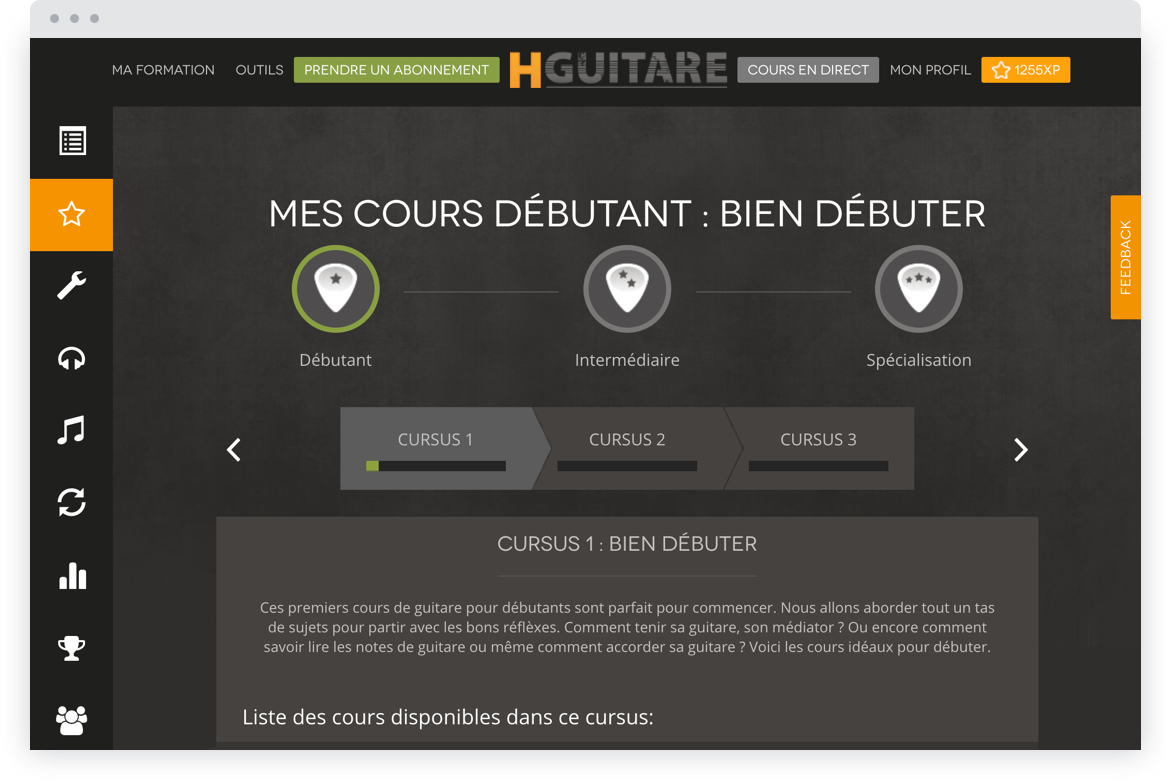 Recreating a tailor-made design was not enough, it was necessary to revive the whole synergy of the visual identity of the company in an innovative way and improve the user experience as well as the speed of the interactions on the site.
The concept of gamification to transpose the mechanics of the game through this learning interface has been one of our priorities to meet the needs of HGuitare.
We also proposed to integrate a system of progress and performance monitoring always in a fun way.

More autonomy and everyday performance
Various features have therefore been implemented with a full backoffice with management:
internally members

subscriptions and courses

transactions

from gamification

from learning curriculum

different forum topics

blog content

Statistical Tools
Several parameters of the platform are submitted to statistics in the form of graphs for better monitoring.

A fun platform
System of tests between users, diversification of skills development levels including a progress report.

A collaborative platform
The opinions of HGuitare students matter. That's why we have a dedicated space where every student can give their opinion on the concept and how it works.
Gain of experience and challenge thanks to the development of this complex application A real team work has allowed HGuitare to gain important market shares in a very competitive sector. The very positive feedback from its launch on both the design side and the curriculum of learning the guitar was a great reward!